XLWB L4 VW Crafter Mercedes Sprinter Vinyl Side Stripe Bubble-Free Decal Graphic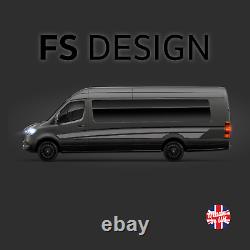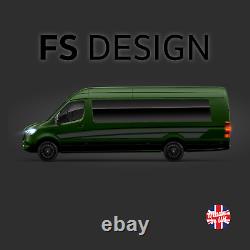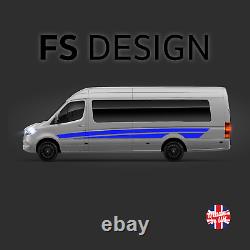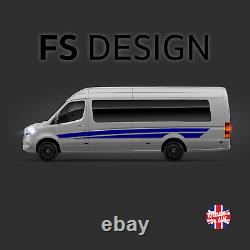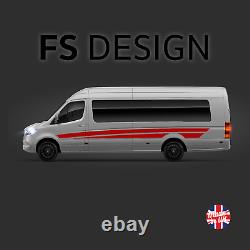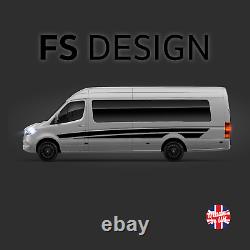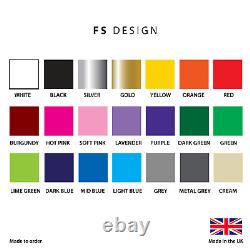 FS Designs graphics are produced in the UK specifically to suit leisure vehicle owners. Our DIY graphics are easy to install and will last for years. If you can't find what you want in our listings, please get in touch. It may be in the pipeline or something we can produce for you in next to no time. Requests we normally receive include icons for leisure activities, brand logos, initials and vehicle names. Here's a set of instructions for fitting vinyl graphics to a van, including preparation, application, and aftercare. Clean the van thoroughly using a mild detergent and water to remove any dirt, grease, or grime that might interfere with the adhesive. Allow it to dry completely before moving on to the next step.
Measure the area where you want to apply the vinyl graphics and make sure it's free of any bumps, dents, or scratches. If you find any, use a sanding block or a fine-grit sandpaper to smooth them out. Apply a wax and grease remover to the area using a clean cloth to get rid of any remaining contaminants. Arm yourself with a squeegee if you didn't get one with your graphics.
Using masking tape (or magnets if you're a bit more experienced) measure up and position the graphics on the vehicle with backing tape intact. Tape the whole of the top edge of your graphic firmly so you can lift the whole vinyl graphic along that edge.
Lift the graphic and somewhere toward the centre (or near a door close / panel gap) carefully cut the backing paper vertically to the masking tape. TAKE EXTRA CARE NOT TO CUT THROUGH YOUR GRAPHIC. Carefully lower the graphic so it's back in its original place, with backing paper sliced.
Using masking tape firmly fix 2 overlapping vertical strips with plenty of run off top and bottom about 50mm from your vertical cut in the backing paper. Carefully tear the original horizontal strip(s) of tape as close to your cut in the backing paper as you can.
Remove the horizontal strip of masking tape from the graphics on the same side as your vertical cut in the backing paper. You should now be able to pull back the graphic right the way to your vertical strips of masking tape and see the cut you made in the backing paper. If you've done the wrong side simply replace the graphic in position, replace the horizontal masking tape and start again at step 5.
At the cut you made in the backing paper carefully lift the backing paper and turn it back on its self so you can see the sticky side of your graphics. You only need to pull back 10-15cm and then fold the backing paper on its self. Bring the graphic back into position and starting in the middle, use your squeegee to firmly smooth out any bubbles or wrinkles.
You can now pull the graphic back round on its self and continue this process pulling a little backing paper at a time so that you don't end up with a big handful of sticky mess. Continue to apply the vinyl graphic in sections until you've covered the entire area. Trim any excess vinyl and door closes using a sharp blade or scissors, being careful not to scratch the van's paintwork. Wait at least 24 hours before washing the van or exposing it to any rain or moisture.
This will allow the adhesive to fully bond with the surface. Wash the van regularly with a mild detergent and water to keep it clean and free of dirt and grime.
Avoid using abrasive cleaners or scrubbing too hard, as this could damage the vinyl graphic. Use a protective wax or sealant to help protect the vinyl graphic from UV rays and other environmental factors that could cause it to fade or deteriorate over time.
By following these instructions, you should be able to successfully fit vinyl graphics to your van and keep them looking great for years to come.