New A/c Air Condenser Radiator New Oe Replacement For Vw Mercedes Benz Crafter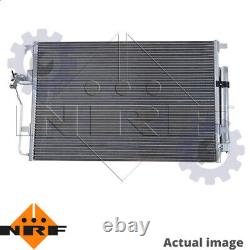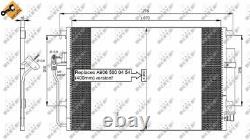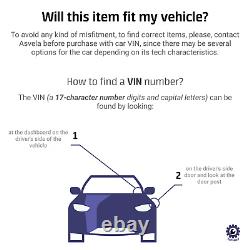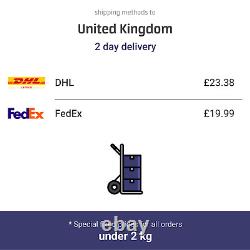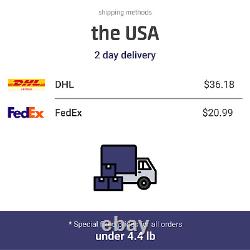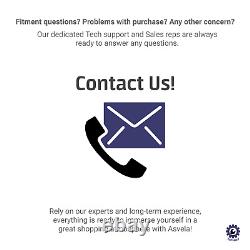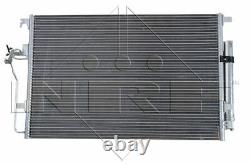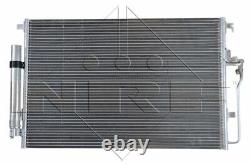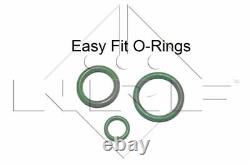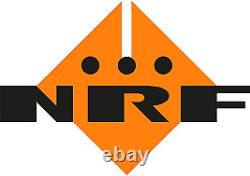 NEW A/C AIR CONDENSER RADIATOR NEW OE REPLACEMENT FOR VW MERCEDES BENZ CRAFTER. Will this item fit your vehicle?
Before purchasing, please, pay attention to item Tech Data and check Reference Numbers section. Make sure that one of these reference numbers does coincide with the number of your previous part or does replace your Original Equipment Number. Surely, in case you doubt in fitment, cannot find the number of your previous part listed in Reference Numbers section, or just cannot be sure about item compatibility with your vehicle, we are here to assist you from Monday to Friday (excluding weekends, but still we will get in touch on Monday). Thank you for your understanding.
Our listings tech data details are provided from official manufacturers' tech data sources. It is highly recommended to verify fitment with our dedicated support before ordering.
Use engines info and vehicle YMM compatibility chart for general guide. To avoid any kind of misfitment, when you doubt in compatibility, or cannot find the correct item, please, contact Parts4Car tech support before purchasing. Strictly important to provide VIN along with your detailed request since there can be different options for your car specific tech characteristics. The VIN a 17-character number (digits and capital letters)can be found by looking at the dashboard on the driver's side of the vehicle or on the driver's side door and look at the door post. NRF 35849 8718042081490 2E 2F 907 906 910 CSLB CSNA CKUB CEBA BJJ CEBB BJK CECA BJL CECB BJM CKTB CSLA CKTC CKUC CSLC OM 651.958 OM 642.899 OM 651.957 OM 651.955 M 271.951 M 272.979 OM 642.986 OM 642.896 OM 642.898 OM 642.992 OM 646.986 OM 646.984 OM 646.985 OM 646.989 OM 646.990 OM 642.993 OM 651.956 OM 651.940 4SEASONS 120ME20502 43276 ACEMARK 341451 AHE AKS DASIS 042022N AUTO AIR GLOUCESTER 161381 161381A AUTOGAMMA 104912 AVA VN5277 A178352A VN5277D VNA5277 VNA5277D VW5277 VW5277D VWA5277 VWA5277D AVA QUALITY COOLING BBR AUTOMOTIVE 0016010752 BEHR HELLA SERVICE 8FC351307641 BSG BSG60525003 DELPHI CF20152 DENSO DCN17008 DCN17056 DIEDERICHS 8166300 DCC1861 DODGE 68013633AA DT SPARE PARTS 466344 ELECTRO AUTO 30M0116 ERA 667110 FREEZ KC0255 FRIGAIR 08062087 8062087 HC-CARGO 260745 HELLA JDEUS 717M83 M7171030 KAGER 946500 KALE OTO RADYATOR 343025 KLOKKERHOLM 9564305277 KRAFT AUTOMOTIVE 0221067 LORO 0540160032 MAHLE AC553001S MAXGEAR AC890889 MERCE 9065000054 9065000454 A9065000054 A9065000454 MERCEDES-BENZ MILES ACCB105 NISSENS 94917 NRF A178352A 35849 PARTS-MALL PXNCR023 PRASCO QH BENELUX QCN633 QUINTON HAZELL SCHLIECKMANN 60585277 SOMORA 172360 SPECTRA PREMIUM 73902 STANDARD F4AC1028 STELLOX 8728002SX TERMAL 104917ZH THERMOTEC KTT110119 TRUCKTEC AUTOMOTIVE 0240278 240278 VALEO 818173 814374 876294Z CA1483 VAN WEZEL 58005277 VEMO V30621039 VW 2E0820413 2E0820413F WAECO 8880400422 WEBASTO 82D0226243MA WEZEL.
Packages sent by courier require signature. If you need our assistance, please let us to know.
If you see that the package that courier tries to deliver is damaged, please fill up the claim form or do not accept it. NOTIFY US right away, we will arrange a replacement/reimburse your order A. Items that are sent in vacum or lubricated film cannot be opened if the retuns is issued. Please let us to know if you have not received our feedback, we will give feedback manually.
This item is in the category "Vehicle Parts & Accessories\Car Parts & Accessories\Air Conditioning & Heating\A/C Condensers". The seller is "spareparts4cars" and is located in this country: LT. This item can be shipped worldwide.
Manufacturer Part Number: 35849
Brand: NRF
EAN: 8718042081490
UPC: 8718042081490
Classic Part: No
Custom Bundle: No
Modified Item: No
Mileage: 0
Manufacturer Warranty: 12 Month
Unit Quantity: 1
Unit Type: Unit
Reference OE/OEM Number: 2E 2F 907 906 910 CSLB CSNA CKUB CEBA BJJ CEBB BJK CECA BJL, CECB BJM CKTB CSLA CKTC CKUC CSLC OM 651.958 OM 642.899, OM 651.957 OM 651.955 M 271.951 M 272.979 OM 642.986 OM 642.896, OM 642.898 OM 642.992 OM 646.986 OM 646.984 OM 646.985, OM 646.989 OM 646.990 OM 642.993 OM 651.956 OM 651.940 4SEASONS, 120ME20502 43276 ACEMARK 341451 AHE AKS DASIS 042022N, AUTO AIR GLOUCESTER 161381 161381A AUTOGAMMA 104912 AVA VN5277, A178352A VN5277D VNA5277 VNA5277D VW5277 VW5277D VWA5277, VWA5277D AVA QUALITY COOLING BBR AUTOMOTIVE 0016010752, BEHR HELLA SERVICE 8FC351307641 BSG BSG60525003 DELPHI CF20152, DENSO DCN17008 DCN17056 DIEDERICHS 8166300 DCC1861 DODGE, 68013633AA DT SPARE PARTS 466344 ELECTRO AUTO 30M0116 ERA, 667110 FREEZ KC0255 FRIGAIR 08062087 8062087 HC-CARGO 260745, HELLA JDEUS 717M83 M7171030 KAGER 946500 KALE OTO RADYATOR, 343025 KLOKKERHOLM 9564305277 KRAFT AUTOMOTIVE 0221067 LORO, 0540160032 MAHLE AC553001S MAXGEAR AC890889 MERCE 9065000054, 9065000454 A9065000054 A9065000454 MERCEDES-BENZ MILES ACCB105, NISSENS 94917 NRF A178352A 35849 PARTS-MALL PXNCR023 PRASCO, QH BENELUX QCN633 QUINTON HAZELL SCHLIECKMANN 60585277 SOMORA, 172360 SPECTRA PREMIUM 73902 STANDARD F4AC1028 STELLOX, 8728002SX TERMAL 104917ZH THERMOTEC KTT110119, TRUCKTEC AUTOMOTIVE 0240278 240278 VALEO 818173 814374 876294Z, CA1483 VAN WEZEL 58005277 VEMO V30621039 VW 2E0820413, 2E0820413F WAECO 8880400422 WEBASTO 82D0226243MA WEZEL