New Central Slave Cylinder Clutch For Mercedes Benz Vw E Class W211 Ceba Rymec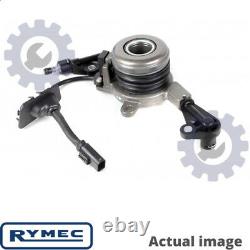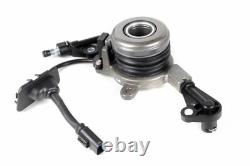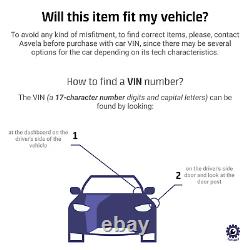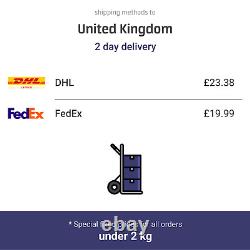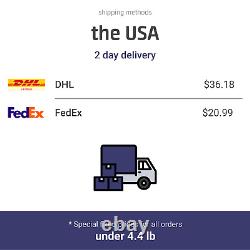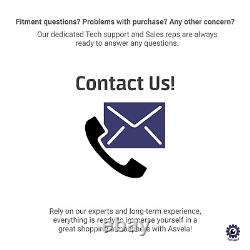 NEW CENTRAL SLAVE CYLINDER CLUTCH FOR MERCEDES BENZ VW E CLASS W211 CEBA RYMEC. Will this item fit your vehicle?
Before purchasing, please, pay attention to item Tech Data and check Reference Numbers section. Make sure that one of these reference numbers does coincide with the number of your previous part or does replace your Original Equipment Number.
Surely, in case you doubt in fitment, cannot find the number of your previous part listed in Reference Numbers section, or just cannot be sure about item compatibility with your vehicle, we are here to assist you from Monday to Friday (excluding weekends, but still we will get in touch on Monday). Thank you for your understanding. Our listings tech data details are provided from official manufacturers' tech data sources.
It is highly recommended to verify fitment with our dedicated support before ordering. Use engines info and vehicle YMM compatibility chart for general guide. To avoid any kind of misfitment, when you doubt in compatibility, or cannot find the correct item, please, contact Parts4Car tech support before purchasing. Strictly important to provide VIN along with your detailed request since there can be different options for your car specific tech characteristics.
The VIN a 17-character number (digits and capital letters)can be found by looking at the dashboard on the driver's side of the vehicle or on the driver's side door and look at the door post. RYMEC CSC028530 W211 S211 S203 R170 R171 W203 CL203 901 902 903 S210 C208 A208 904 W210 W163 S202 C209 A209 2E 2F M 272.943 OM 642.920 M 271.941 OM 646.961 OM 647.961 OM 646.951 M 271.956 M 112.913 M 112.917 OM 646.821 M 111.951 M 112.912 M 271.942 OM 646.962 OM 646.963 OM 611.962 M 271.948 OM 642.910 M 111.955 OM 612.962 M 112.946 M 271.946 M 271.940 M 111.958 M 112.947 M 111.983 M 272.942 M 271.944 M 272.963 M 111.981 OM 611.987 OM 611.981 OM 612.981 M 111.979 M 111.984 OM 647.981 M 111.942 OM 612.961 OM 611.961 M 111.957 M 112.914 M 112.921 M 112.911 M 111.956 M 111.982 OM 612.963 M 111.952 M 112.915 M 112.920 OM 612.967 CEBA BJJ CEBB BJK CECA BJL CECB BJM A. A178352A 41135 ATE 24253650013 BORG & BECK BCS114 BORG BECK DT SPARE PARTS 1117040 EXEDY CSC422 FEBI BILSTEIN 34962 FTE MZA360531 MZA3605.3.1 GIRLING 1109117 HELLA 8AZ355600021 HELLA PAGID JP GROUP 1330405119 KAWE 990062 LPR 3277 LUK 510003410 MERCE 000 254 17 08 000 254 28 08 MERCEDES-BENZ NATIONAL CSC028 NK 143301 PATRON PHCB38 QUINTON HAZELL SACHS 3182997802 STATIM 221CSC STELLOX 0700688SX SWAG 10934962 TEXTAR 53011900 TRUCKTEC AUTOMOTIVE 0223136 TRW PJM117 VALEO 804549. Packages sent by courier require signature. If you need our assistance, please let us to know. If you see that the package that courier tries to deliver is damaged, please fill up the claim form or do not accept it. NOTIFY US right away, we will arrange a replacement/reimburse your order A. Items that are sent in vacum or lubricated film cannot be opened if the retuns is issued.
Please let us to know if you have not received our feedback, we will give feedback manually. This item is in the category "Vehicle Parts & Accessories\Car Parts & Accessories\Transmission & Drivetrain\Clutch Parts & Kits\Clutch Hydraulics". The seller is "spareparts4cars" and is located in this country: LT. This item can be shipped worldwide.
Reference OE/OEM Number: W211 S211 S203 R170 R171 W203 CL203 901 902 903 S210 C208 A208, 904 W210 W163 S202 C209 A209 2E 2F M 272.943 OM 642.920, M 271.941 OM 646.961 OM 647.961 OM 646.951 M 271.956 M 112.913, M 112.917 OM 646.821 M 111.951 M 112.912 M 271.942 OM 646.962, OM 646.963 OM 611.962 M 271.948 OM 642.910 M 111.955 OM 612.962, M 112.946 M 271.946 M 271.940 M 111.958 M 112.947 M 111.983, M 272.942 M 271.944 M 272.963 M 111.981 OM 611.987 OM 611.981, OM 612.981 M 111.979 M 111.984 OM 647.981 M 111.942 OM 612.961, OM 611.961 M 111.957 M 112.914 M 112.921 M 112.911 M 111.956, M 111.982 OM 612.963 M 111.952 M 112.915 M 112.920 OM 612.967, CEBA BJJ CEBB BJK CECA BJL CECB BJM A.

A178352A 41135 ATE, 24253650013 BORG & BECK BCS114 BORG BECK DT SPARE PARTS 1117040, EXEDY CSC422 FEBI BILSTEIN 34962 FTE MZA360531 MZA3605.3.1, GIRLING 1109117 HELLA 8AZ355600021 HELLA PAGID JP GROUP, 1330405119 KAWE 990062 LPR 3277 LUK 510003410 MERCE, 000 254 17 08 000 254 28 08 MERCEDES-BENZ NATIONAL CSC028 NK, 143301 PATRON PHCB38 QUINTON HAZELL SACHS 3182997802 STATIM, 221CSC STELLOX 0700688SX SWAG 10934962 TEXTAR 53011900, TRUCKTEC AUTOMOTIVE 0223136 TRW PJM117 VALEO 804549

Brand: RYMEC
Manufacturer Part Number: CSC028530