Gas-It Mercedes Sprinter 2006 -VW Crafter 200 x 25 ltr GAS IT System 2006 2017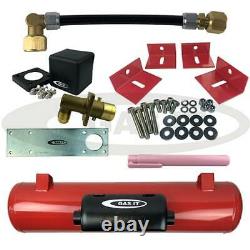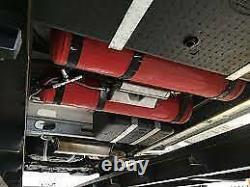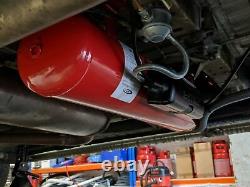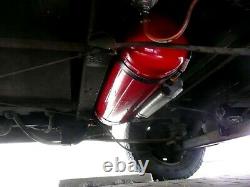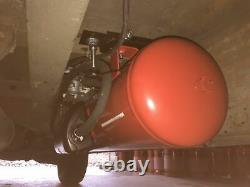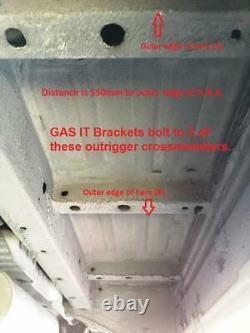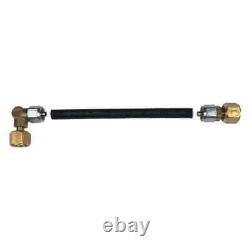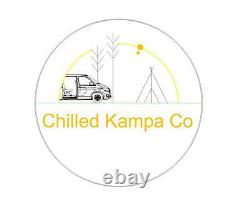 The metal tank mounting brackets will come in bare steel and are not painted red as per the picture. Under current codes of practice these brackets and tanks need undersealing, the GAS IT underseal (GI-SPR-001) is designed for this purpose. If your wanting to fit a GAS IT EASYFIT gas tank as a retrofit item to a VW Crafter, then this is one of the options available to you. Our in house developed OEM specification GAS IT EASYFIT tank system has been designed to locate the 25 litre GAS IT tank under the rear drivers side (RH drive vehicles) via the 4 GAS IT specific vehicle type bracket's. They fit under the driver's side on right hand drive vehicles and fix with each to the cross members. Always have a look to make sure there are no other factory options like AdBlue tanks, side steps and so forth that are fitted in the same location and that edge from edge measurements are 550mm Cross members - see picture. Our GAS IT Chassis brackets for retrofit installations don't require insulated floors to be cut or modified as they bolt directly through the outriger cross member's which then allow our quick install feeted GAS IT tank to be fixed to the vehicle. Our EASYFIT gas tank's allow 1 man installation and quick and easy removal should you need to in the future for jobs like repainting the van which would go into an oven. All fixing's to bolt the tank mounting frame to the vehicle and the GAS IT tank to the mounting system are provided. We also sell installtion tools like drill bits, stone guard, gloves and safety glasses to name just 4 to aid you on our web shop. On completion, your installation will not only comply with the relevant road vehicle gas regulations for the UK and Europe, but it will exceed their technical requirements and make your GAS IT tank safe and legal for use on the roads. If you want to reduce your vehicles weight from this 25 litre EASYFIT gas tank, then we also offer the option of using a smaller 20 ltr GAS IT tank.
The same goes for a increase in size as we also list a 30 litre and 38 litre EASYFIT tank for your application. Options available to select on our website include various fill point options and colours, underbody tank spray, stainless pigtail lengths and regulator options.
As all GAS IT tanks are fitted with automatic excess flow valves in the inlet and outlets of the tank, It complies with the EN1949 regulations which states you do not need to fit a crash sensing regulator to run your gas whilst moving (assuming your gas appliance system its approved to be used whilst vehicle is in motion). In line with the N.
CoP 306 and also the gas tank manufactures requirements, you must protect your GAS IT tank when mounting underneath the vehicle from mechanical damage caused by stones and road debris. A good quality rubberised underbody spray to help protect and prolong your gas tanks life, and the associated mounting system, from Stone chips and future rust must be applied on install. We sell an underbody spray on our webshop for this application via the install tool and accessories category. Please make sure the rubberised coating on the tank is checked at least once a year and recoated in any areas that have been washed away by general road wear.
The GAS IT gas tank kit is a full 25 litre gas tank kit with a under-sill fill point system (drivers side) which does not require the body to be drilled to fit a fill point mounting box. 1x (GI-VT-002-F-S-C) 25Ltr GAS IT fully valved tank with black powder coated airbox & factory fixed mounted feet. 1x (GI-TF-067-KIT) Set of Heavy duty vehicle specific chassis mounting brackets - These are supplied in bare steel and not painted red. 1x (GI-0083) Chassis bracket fitting kit - M10 ISO bolts, washers, nuts. 1x (GI-FH-048) 1.5 mtr OEM R67 approved Light weight filler hose.
This fill hose requires simple self assembly and takes a few minutes with hand tools. 1x (GI-FP-009-S) Fill point mounting bracket. 1x (GI-FP-002) Brass fill point with 90° outlet. 1x (GI-FP-010) Fill point dust cover. 1x (GI-TOOL-017) Leak Test Spray 10ml.
1x (GI-STICK-008) LPG Saftey Sticker for LPG Tank. GAS IT Black Gas Tank & Underbody Coating Spray 500ml. Please note that this GAS IT tank does not come with a mechanical or remote LED displays and senders level indicator.
The item "Gas-It Mercedes Sprinter 2006 -VW Crafter 200 x 25 ltr GAS IT System 2006 2017" is in sale since Sunday, September 5, 2021. This item is in the category "Vehicle Parts & Accessories\Caravan, Campervan & Motorhome Parts & Accessories\Other Caravan & Motorhome Parts & Accessories". The seller is "chilledkampaco" and is located in Stone.
This item can be shipped to United Kingdom.
Model: VW Crafter/Mercedes Sprinter
Country/Region of Manufacture: United Kingdom
Custom Bundle: No
Unit Quantity: 1
Placement on Vehicle: Under Body
Type: Camper Van, Mobile Home, Gas It
Manufacturer Part Number: VW Crafter 200 x 25Ltr GAS IT System 2006 - 2017
Vehicle Type: Panel Van
Unit Type: Unit
Brand: Gas-It